Nicole Puhar and Belinda Thewes have been awarded Associate Savante status after achieving the prescribed scores in the challenging Savantes Skills Test in Melbourne Australia.
Presented for the first time since March 2020, the Test involves a series of exercises covering variety identification, intensity ranking, defect detection and ranking, and triangle tests. Care is taken when setting the test that the degree of difficulty is consistent across the world and achieving Savante or Associate puts tasters at an equivalent level wherever the test is undertaken. Currently there 10 Savantes and 89 Associates worldwide.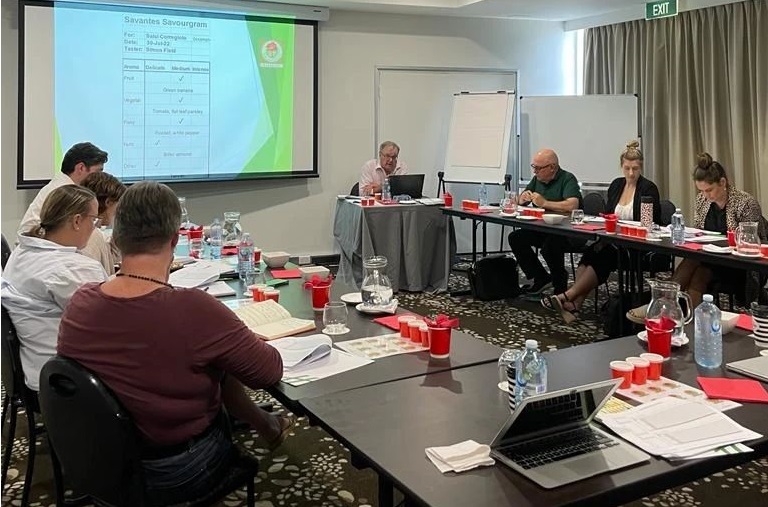 Nicole Puhar is a Senior Brand Manager with Conga Foods in Melbourne. She specialises in Australian and Spanish olive oils and has a deep understanding of the market trends and consumer behaviour in this category. She is dedicated to encouraging consumers to use more of this healthy and delicious oil. Her knowledge of olive oils has allowed her to create engaging campaigns that showcase the versatility of this golden ingredient and its important role in bring people together.
Belinda Thewes was drawn into the world of EVOO by a love of the Mediterranean cuisine and culture, travels through Greece and a fascination with the health and psychological benefits of the Mediterranean way of life. She is a clinical psychologist and researcher based in Moruya in New South Wales. She spends her time working with people with cancer and chronic diseases. A steady stream of scientific literature about the health benefits of EVOO convinced Belinda that her hobby and passion for EVOO was not just about beautiful flavours, aromas and culinary uses, but a valuable lifestyle habit that promotes good health. Belinda is the founder of The Good Life Olive Oil with a mission to share her love and knowledge of high-quality EVOO and the food it enhances.
Simon Field, founder and presenter of Savantes, congratulated and welcomed the new members of the Associate Savante register, noting that their professional backgrounds and activities adds to the diversity and advocacy which the register contributes to the global olive oil industry.