Originally published in Spanish in Mercacei in November 2016.
Olive trees were brought to Australia and New Zealand by some of the first European migrants and scattered groves and individual trees persist from these plantings. In Western Australia in 1846 two Spanish Benedictine monks established a mission with an olive grove at New Norcia which exists to this day. In 1835 in New Zealand the explorer Charles Darwin mentioned olive trees planted at Waimate North on the northern tip of the North Island.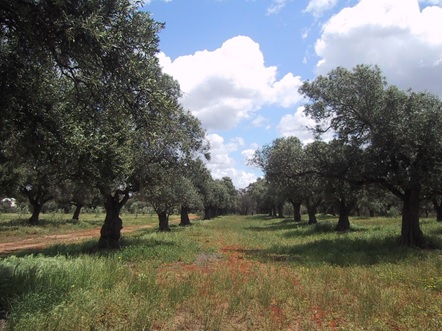 Approximately 150 years later, driven by nurseries promoting the establishment of commercial olive groves, the olive industry in both countries started the current resurgence. There was a small number of commercial groves which persisted from previous planting cycles with a few local brands of olive oil and table olives available through specialty food stores. In Australia there was one brand produced in South Australia which continued to be available in supermarkets. Ironically the brand name was Viva.
One of the drivers of the establishment of new groves was the lure of replacing substantial imports of olive oil. Australia, especially, has a large population of migrants from Mediterranean countries which has maintained the tradition of olive oil use in cuisine. The annual olive oil consumption in Australia fluctuates between 35,000 and 40,000 metric tonnes of olive oil with New Zealanders consuming around 4,000 tonnes. Prior to 1995 this market was supplied almost entirely through imports from Spain, Italy and Greece. The story was similar for table olives.
The new plantings comprised a mixture of large scale (above 80,000 trees) investment schemes, medium size groves (10,000-80,000 trees) and smaller boutique and lifestyle groves (500-10,0000) trees. The largest grove in New Zealand involved plantings of around 40,000 trees. The varieties were imported from the Mediterranean, mainly Italian classic olive oil varieties frantoio, leccino and coratina, Spanish varieties picual, hojiblanca and arbequina and Greek koroneiki. Manzanilla was planted for green table olives and with the Greek kalamon (kalamata) supplies most of the bulk table olives. One large managed investment enterprise planted a high proportion of the new cultivar bred in Israel, barnea. Problems occurred with this variety as in Australia it consistently yields oil which is higher in campesterol than the International Olive Council specification, in New Zealand it often does not bear fruit.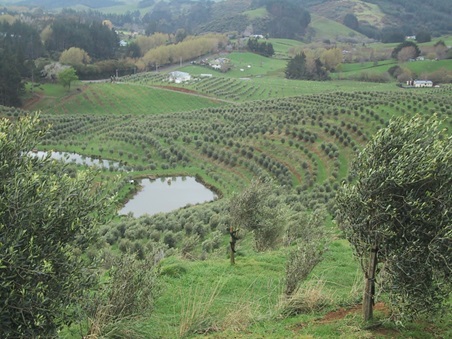 Groves were planted all over both countries and in time it became apparent that some regions, especially those with higher rainfall and short ripening seasons, were unsuitable for olive production and the groves ceased to operate. The tree density varied from semi-high density to high density. Some of the latest plantings involve super high density or hedgerow configurations requiring specialised equipment for tree management.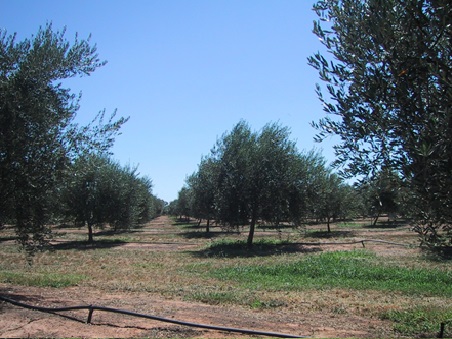 As the trees matured, modern over the row harvesting equipment was developed and processing equipment was imported. The first surge of Australian and New Zealand extra virgin olive oil started appearing alongside imported products on the retail shelves and in restaurants. The initial offerings were comparatively high priced and considered a novelty purchase. With time, more was learned about local growing conditions and expertise in processing was acquired to improve yields and reduce production costs.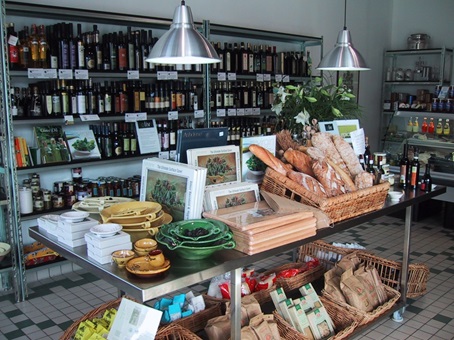 The industry transformed from one driven by the enthusiasm and passion of the pioneers to one of more realistic expectation of sales and price. Many large and small groves changed hands at prices well below the cost of establishment allowing the new owners to achieve a reasonable return on investment. In 2012 the number of local brands on supermarket shelves peaked and since has declined to a few supplied by large enterprises. Private label with Australian and New Zealand olive oils started to appear around the same time. Smaller groves in both countries continue to rely on farmer's markets to move their small production at relatively high prices. Medium size producers sell their products in bulk or through foodservice distributors and specialty food suppliers.
The latest olive industry surge has now completed the traditional cycle of agricultural products and settled down to producing a consistent product which in Australia supplies approximately 40% of the local demand, 15,000 metric tonnes of an annual consumption of 38,000 tonnes. In New Zealand local annual production of 400 tonnes of olive oil comprises 10% of consumption. Australian table olive production is about 4,500 tonnes annually with the largest grove comprising 125,000 trees. Consumption fluctuates around 17,000 tonnes of table olives, 75% of which are imported. New Zealand production of table olives is relatively low at an annual 10 tonnes.
The majority of the olive oil produced both in Australia and New Zealand is extra virgin and little if any refining of local production takes place. Claims that 95% of production is extra virgin are probably overstated, 80% in Australia being more credible as quantities of virgin olive oil and lampante are exported to Europe with some returning as bottled refined or blended olive oil. Australia has the capacity to refine large quantities of olive oil, while in New Zealand the small production does not justify refining.
Despite the resurgence of local production in Australia the per capita consumption is following the declining worldwide trend. At 2 litres per capita consumption ten years ago, Australians were the highest consumers outside the Mediterranean producing countries. Per capita consumption has declined 25% in the last ten years to just over 1.5 litres per person. Population growth has kept total consumption relatively stable but there has been no growth in volume. There are probably many reasons for this: the high price of extra virgin olive oil coming at a time when other vegetable oils such as rice bran oil have conducted a major marketing campaign, consumers losing confidence in the product as local producers denigrate imports as they work to replace them on the shelves, consumers spending power declining as the economy eases.
While the olive industry in both Australia and New Zealand has lost momentum there are still many opportunities which auger well for the future. Before these opportunities can be fully exploited the two main industry advocacy groups, one representing growers and the other representing importers, need to reconcile their differences and cooperate to promote the consumption of olive oil. This will be more likely to occur now that larger importing companies are bottling and distributing local production. Both Australian and New Zealand production currently fall well short of demand and imports will continue to supply the substantial shortfall.
In New Zealand the main challenge is to increase production, both to replace imports and bring the price down. The climate in New Zealand is not ideal for olives. The ripening season is short, the soils are rich and the rainfall high. The result is that yields are low and producers struggle to reach the volume required to sustain a market. The olive oils produced are typical of those from cool climates, aromatic, highly complex, flavoursome and intense. There is demand for these styles in markets and countries where the populace is discerning about food, such as Japan. It is no surprise then that New Zealand is running a campaign to test the Japanese market and at the same time undertaking a three-year project to increase yields. Another market readily available to producers is the tourist market. Many groves are in popular tourist destinations such as Waiheke Island an hour's ferry ride from the capital Auckland, or the wine growing region in Marlborough in the north of the South Island.  In summary, the New Zealand olive and olive oil industry will remain relatively small being sustained by selling small volumes of high value extra virgin olive oil to discerning local and overseas consumers.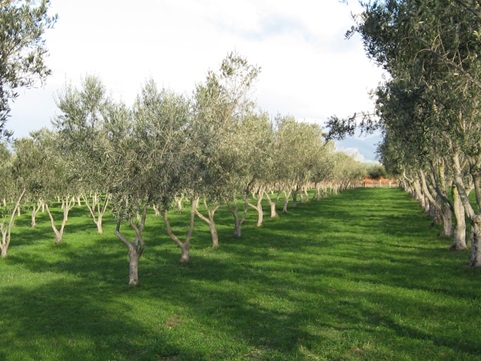 For Australia the opportunities are more expansive. Now that the problems of high costs of labour and varietal behaviour have been mostly resolved the production can be accelerated at a rapid rate. The constraints are capital and markets.
Australia already exports on average 8,000 tonnes of olive oil a year, mainly to Italy, Spain, China and USA. It can complement northern hemisphere production by producing fresh oil six months later. This provides a major advantage for blending to sustain shelf-life and sell fresh olive oil twice a year. Another advantage of Australia is that the main cultivars from each of the three largest producing countries, Spain, Italy and Greece, are in production. This gives great flexibility in blending and delivering the styles most favoured in the world's highest consuming countries.
Attractive to investors will also be the proximity to Asia's burgeoning markets – China, Indonesia and Malaysia. There have been some recent sales of large Australian olive oil enterprises to Malaysian and Chinese investors, some with the stated aim of exporting all the production to Asia. Australia has the political stability, land and agricultural expertise to become very large producers of olive oil supplementing northern hemisphere production and pioneering the Asian markets. 
The next surge will most likely occur when European, Asian and Australian interests combine to provide the capital, expertise, location and markets to exploit the world's fastest growing economies in India, China and Indonesia.
Simon Field
August 2017